The Specials arena tour for Leicester's By The Rivers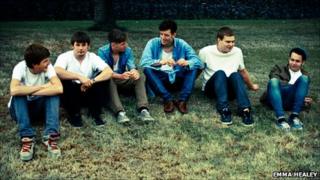 Unsigned Leicester band By The Rivers will be supporting famous British ska group The Specials on their UK arena tour.
The six-piece ensemble, who label themselves as "roots reggae for a new generation", said they felt honoured to be asked to play the slot.
Formed in May 2010 by childhood friends Nile Barrow and Jordan Birtles, this will be their first time on the road.
"A lot of the places on the tour, I have never been to before, let alone played there," said Nile.
Nile, 18, and Jordan, 21, met The Specials' singer Neville Staple when they supported his other band at a gig in Derby and gave him a CD of their music to take away.
A couple of months and a number of phone calls later, the Leicester group was booked to support the famous ska band on each date of their national tour in October.
"I didn't know how to react. I couldn't believe it was actually happening. I had a big celebration that night and a bad head the next morning," said Nile.
Shared message
The Specials came to prominence in 1979, scoring seven top 10 singles before they split in 1981, including their famous song Ghost Town.
Since then they have reformed several times in different forms, but there has never been a complete reunion of the original line-up.
"Before we even thought about writing reggae music we were influenced by The Specials," said Jordan.
"Not only musically, but also because of what they stand for and the message they have. They were at the forefront of the 2-Tone movement and stood against racism and politics."
Before they hit the road, By The Rivers have a busy summer festival season to complete - including their second appearance at Leicester's Summer Sundae Weekender.
"After playing last year and getting the response we did, we cannot wait to be back in that atmosphere with more songs under our belt," said Jordan
The unsigned band played the BBC Introducing stage at T in the Park earlier this month, after being put forward by East Midlands' new music show The Beat.
"Playing a gig and then walking to the main stage to see Foo Fighters... I could gladly do that every day of the week," said Nile.