London 2012: Olympic torch prototype comes to Leicester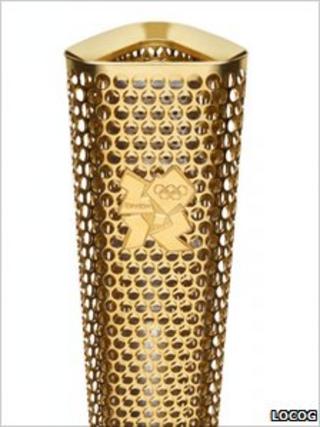 Leicester shoppers have been able to take a picture with the prototype for the London 2012 Olympic torch relay.
The 80cm-tall perforated gold torch arrived at Humberstone Gate in the city centre for one day as part of a national roadshow.
Visitors also learnt about the history of the relay, played interactive games and nominated "inspirational" local people to carry the flame next year.
The Olympic torch relay will stop overnight in Leicester on 2 July 2012.
A Loughborough College student and Volleyball England academy member was one of the first people to touch the Olympic beacon at the unveiling of the London 2012 Olympic torch at St Pancras station in June.
Jermaine Miles, 16, said: "It's triangular with 8,000 perforated holes and when the light hits it it's a brilliant site - all you can see is the gold shining off it.
"I thought it was going to be heavier, but when I lifted it it was so light and the fact that I was holding it first was very, very special for me."
The design of the torch has changed with each Olympic Games, sometimes reflecting classical torches, at other times taking on a contemporary look.
Paul Edwards, head of sports services at Leicester City Council, said: "I've held the torch in previous Olympic Games, which is pleasing because of the historical value each torch has.
"But to have the opportunity to actually have your photograph taken with it is fantastic."
The Olympic torch relay will be a 70-day celebration, starting in the UK on 19 May 2012, and 8,000 torch bearers will help carry the flame across the country in the run-up to the opening ceremony in London on 27 July.
It is hoped that about 95% of people will be within an hour's journey of seeing the torch, which will travel for about 12 hours each day.