Sir Peter Soulsby defends plan to abolish chief executive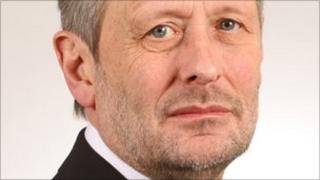 Leicester's mayor has defended his call for the abolition of the city's £175,000-a-year chief executive post.
Sir Peter Soulsby said the post was "redundant" because his new post as mayor included most of the responsibilities of a chief executive.
Sir Peter has said the chief executive, Sheila Lock, has lodged 10 complaints against him, including about his call for the post to be removed.
Ms Lock is currently on sick leave and was not available for comment.
Mr Soulsby said a complete overhaul of the city's top management was needed.
Campaign manifesto
"I said very clearly in the local election campaign and in my manifesto that I was going to do a thorough review of senior management and… that would include the chief executive's role.
"Having elected a mayor - I believe the role of a chief executive is completely redundant."
He said he was calling for the change "partly to save money but also because of this overlap of roles".
The entire city council would need to vote for the change for it to take effect, he said.
He said Ms Lock would be included in a formal process of consultation and her feedback would be "fully considered".