Huge Wanlip wind turbine plan gets approval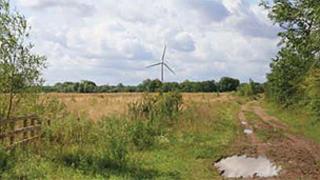 A wind turbine six times taller than the Angel of the North will be built in Leicestershire by Severn Trent Water despite local opposition.
The 132m (434ft) turbine, which is slightly shorter than the London Eye, will be located in Wanlip.
Planning inspectors have approved the turbine near the A6 after plans were rejected by Charnwood Borough Council.
Local residents had opposed the plans because of the noise from the turbine blades and its visual impact.
'Right development'
The turbine will be erected by the end of 2012 and will provide enough energy to power the equivalent of 1,800 homes.
Resident Ian Bentley said the sheer scale of the project meant the turbine would be visible for a 25-mile (40-km) radius.
"It is a legacy we will have to live with for 25 years. I just hope it will be removed after 25 years," he said.
Farmer Fred Barber said: "It will make the Angel of the North look like a toy. It will as big as a Boeing 747 spinning over the top of Wanlip."
The local planning committee said in 2010 the turbine was too tall and would harm the appearance of the surrounding countryside and the Soar Valley.
Martin Dent, renewable energy development manager for Severn Trent, said the firm had carried out a full consultation and chosen the site carefully.
"We had to gather lots of environmental data - we had consultations with statutory bodies like Natural England and RSPB - and we wanted to make sure this was the right development for this site."
The wind turbine will reduce carbon emissions by 3.7 tonnes annually, the firm said.