BBC Leicester wants your Summer Sundae festival stories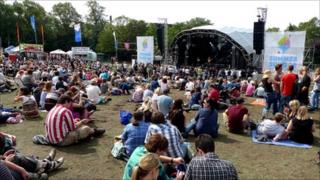 BBC Leicester wants to hear your special and surprising stories from past years at Summer Sundae Weekender.
This August 7,000 music lovers will descend on De Montfort Hall and Gardens to watch acts, make friends and form lifelong memories.
The BBC Bus will be there too, recording festival anecdotes - from stunning sets to romantic moments.
And you can send us your stories, whether you are attending or not, to summersundae@bbc.co.uk
Be sure to include your name, location and contact details.
Ruby's story
The parents of seven-year-old Ruby Lambert are hoping she will be well enough to attend Summer Sundae next year.
The family have attended the festival three times, where they enjoyed the music, formed close friendships, and made "lots of really happy memories".
However this year the family will be in America where Ruby is receiving special treatment following a major heart attack in April 2010 which left her with a life-changing brain injury.
The surprise of a fire alarm at school triggered the cardiac arrest - her body was unable to cope with the flood of adrenaline due to rare undisguised heart condition.
A teaching assistant administered CPR until paramedic arrived and used a defibrillator to restart her heart.
"It's about the most traumatic thing you can think of," said Ruby's mother, Catherine Newall.
Ruby now uses a wheelchair, is fed through a tube and is unable to speak.
However there are gradual improvements to her condition - doctors have established she is able to understand those around her and has memories of past events.
The Ruby Lambert Trust has been created to help raise the money needed to continue treatment at the Children's Hospital of Philadelphia - and a friend made at Summer Sundae will be adding to the fund by taking on the Great North Run.
Ms Newall said the family hoped they would be back in De Montfort Hall Gardens next summer.
"One thing that's always struck us about the festival is that it's so accessible... it's really clear that there's good wheelchair access.
"So thinking about it we'll be able to take Ruby there next year, and we can't wait to do it."