Andrew Bridgen MP denies sexual assault claim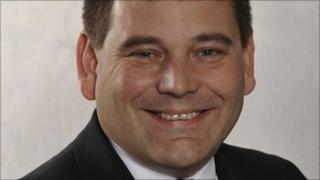 MP Andrew Bridgen, arrested on suspicion of sexual assault, has said allegations against him are "wholly false".
The 46-year-old Conservative MP for North West Leicestershire was arrested on Thursday morning.
Mr Bridgen postponed his surgery at Whitwick Community Coffee Shop on Friday afternoon.
He has been bailed to a date in mid-July but the police stressed he had not been charged with any offence.
'Real hurt'
In a statement he said: "The allegations made against me are wholly false and without foundation. Fortunately, they are also demonstrably and provably false.
"I have been happy to co-operate fully with the police and I am completely confident that, after proper investigation, I will be fully exonerated.
"This has caused real hurt and distress to my friends and family, and must be a concern to my constituents.
"I am naturally angry that I have been targeted in this mischievous and damaging way, and I will be taking advice about this.
"But I would like to thank my constituents and colleagues for the many messages of support that I have received."
An earlier statement, issued on the MP's behalf said he was planning to stay away from his constituency.
It said: "Because of the high level of media interest, Mr Bridgen has decided to stay in London until at least next Friday and, as a result, regrettably, this afternoon's surgery at Whitwick Community Coffee Shop has been postponed."
'Witness exists'
The married father-of-two was arrested in central London in the early hours of Thursday.
The backbench MP and former Royal Marine, who entered Parliament last year, is accused of assaulting a 29-year-old woman, the BBC understands.
Later on Friday, he said a video featured in the media, which was said to show the woman phoning police shortly after the alleged incident, "offered nothing new".
He said: "The alleged content of this video offers nothing new, and merely repeats an assertion of which I am already aware.
"This assertion, which is demonstrably and provably untrue, is not supported by the facts, to which a witness exists, namely that I was at no time alone with this woman and that no such assault took place."
After training as an officer in the Royal Marines, he worked for his family's gardening business and set up a fruit and vegetable firm with his brother in 1988.
He won the marginal Leicestershire North West seat back from Labour in 2010 with a swing of nearly 12%, after the early death of Labour MP David Taylor.
In the Commons he is a member of the Regulatory Reform Select Committee.