Leicester family's 'overwhelming' response to Poor Kids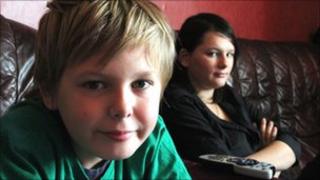 A Leicester father who featured on a BBC documentary highlighting child poverty said he had experienced an "overwhelming response" from viewers.
Poor Kids followed Steven Arnold struggling to raise his three children on benefits, on the Braunstone estate.
One viewer travelled from Lancashire to give money and a holiday, while Mr Arnold has had a potential job offer.
"It's been absolutely outstanding. The kids are going to be absolutely amazed," Mr Arnold said.
"I've been looking for work for the last two and a half years and unfortunately a job hasn't come my way. I've had a couple of interviews but unfortunately nothing successful.
"A job in today's world is like gold, so if there's any possibility of working I'm more than happy to look at it."
Mr Arnold said in the past his benefits had just covered the family's essential needs, but the family had struggled increasingly since he suffered a heart attack earlier this year.
Mixed reaction
Councillor Anne Glover, who represents Braunstone at Leicester City Council, said she was "staggered" by the documentary, arguing the depiction of the estate undermined the work of volunteers to improve the estate's reputation.
"[Mr Arnold] must walk around with his eyes shut or isn't prepared to accept or ask for any help," she said.
Labour MP for Leicester West, Liz Kendall agreed there had been big improvements in the area, but admitted there were "still far too many children living in poverty".
"I am absolutely not complacent about what more we need to do, but I think it's right to recognise if you're in Braunstone now compared to 10 or 15 years ago, there are a huge number of services out there," she said.