Former Showaddywaddy singer Bill 'Buddy' Gask dies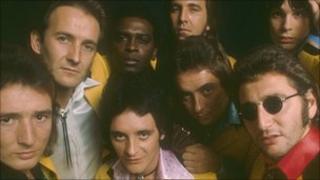 One of the original members of the Leicester band Showaddywaddy has died aged 64, following a long illness.
Bill "Buddy Gask" spent 14 years with the Teddy Boy-styled group and sang lead vocals on the band's first hit single Hey Rock 'n' Roll in 1974.
The group went on to record 15 UK top 20 hit singles during the 1970s.
Showaddywaddy frontman Dave Bartram said they spent "great times" together during the group's heyday.
"We were so busy with work we would save our bingeing till afterwards," he said.
"I wasn't particularly close to Bill but I remember him as an unusual personality and quite an intense guy, although he did have a great sense of humour.
Hits revival
"Sadly after leaving the band in 1987 I think a lot of his problems were with the dreaded alcohol."
Showaddywaddy specialised in revivals of hit songs from the 1950s and 1960s.
The eight-piece group sold millions of records during the 1970s including top five hits Under the Moon of Love, You Got What It Takes and Three Steps To Heaven.
The band's appeal began to wane at the end of the decade although they have continued to record and tour to the present day.
As well as singing on the group's debut hit, Gask performed lead vocals on hit singles including Rock 'n' Roll Lady, Heartbeat and Good Timing, as well as a number of album tracks and B-sides.
He retired to Spain five years ago.
A statement on the band's website said the other members sent their condolences to Gask's family.