Twycross Zoo welcomes new giraffe for captive programme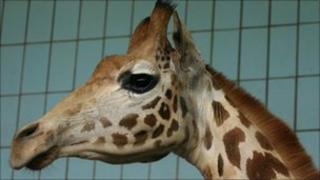 A young female giraffe has arrived at Twycross Zoo as part of a European-wide captive management programme.
Five-year-old Harriet travelled four hours from a safari park in Suffolk to join the Leicestershire's zoos two other giraffes, Keisha and Justin.
Neil Dorman, general curator for the Zoo, said the team was "really pleased" with how Harriet had settled in.
The mammal was relocated following a recommendation from the European Endangered Species Breeding Programme.
The organisation manages animals which are held in captivity throughout Europe.
'Smooth journey'
Harriet, who was born at Suffolk's Africa Alive, is part of the non-breeding herd at the zoo. Seven-year-old Justin was also born at the wildlife park. Keisha was born at Twycross Zoo in 1998.
Mr Dorman said Harriet, who was greeted by keepers and visitors when she arrived, had a "very smooth journey to us" and "seemed completely unfazed by the trip, which was fantastic".
Animal manager Colin Ward, who made the preparations for her arrival, said the trailer was "very similar to a horsebox but a lot bigger".
"The vehicle, which has come from the Netherlands, was purposely built for moving giraffes.
"It's the first time Harriet's been inside a lorry, but she was quite happy to walk into the enclosure - she obviously felt safe," he added.