Abandoned Rutland osprey chick survives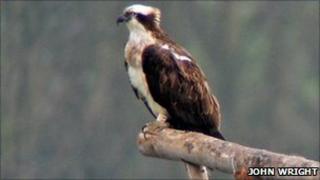 An osprey chick has been saved by conservationists after both parents abandoned its nest.
The Rutland Osprey Project said a male adult bird, Osprey 08, was last seen on 11 May and was the third to vanish from around Rutland Water since April 2010.
His mate then abandoned the nest and the eggs she was incubating were removed by the Rutland Osprey Project and artificially incubated.
One of the chicks hatched and is being reared in a surrogate nest.
Conservationists in Rutland have offered a reward for information about the missing osprey.
'Nest manipulation'
The team fears someone is deliberately killing the ospreys, leaving nests of eggs at risk as breeding pairs are separated.
The foster parents, whose nest is on private farmland near the reservoir, have accepted the extra chick and are rearing it alongside their three newly-hatched chicks.
Project officer Tim Mackrill said: "We are thrilled that the chick has hatched. When the male disappeared and the female abandoned the nest we thought it highly unlikely that we would be able to save any of the chicks.
"It is fantastic news that one has hatched and has been accepted by the foster parents. It shows that this kind of nest manipulation can work very well."
Police are continuing their investigation into the disappearance of Osprey 08 and anyone with information has been urged to contact Leicestershire Police or the osprey team at Rutland Water.