Jobs to go after Leicester food firm loses M&S contract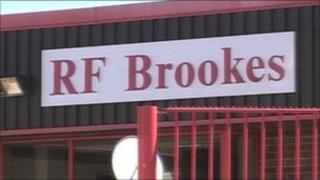 Up to 200 jobs are expected to go at a Leicestershire food firm after it lost a contract to supply pies to Marks & Spencer.
RF Brookes, based in South Wigston, said its commitment to supply other food lines to the high street store would continue.
The food firm said it had started consultating with workers.
The company currently employs 720 staff and said it was confident the remaining 520 jobs would be safe.
A spokesperson for the company said: "Following a competitive tender process, RF Brookes in Leicester has lost its contract to supply pies to Marks & Spencer.
"After intensive negotiations to mitigate the impact of this decision on the workforce, the contract will transfer in two stages, in September 2011 and in June 2012.
"M&S remains an important customer and RF Brookes remains a significant supplier to M&S for other food lines.
"The company remains committed to Leicester and will continue to invest in the site to make it more efficient and better able to compete for new business and safeguard the 520 jobs that will remain."