Codex Leicester prepare to release debut album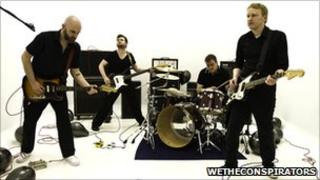 Despite having only played their first gig in April, Codex Leicester are already creating quite a buzz around the city.
The four members came together, having previously played with other local bands, at last year's White Noise Festival.
For 2011 the group returned to headlined the event's Friday night to a packed Firebug crowd.
"Everyone was digging it, even though they've not heard many songs. So it shows that it works somewhere along the line," said singer and festival organiser Scott West.
He said they were taking an organised approach to the music - they are already halfway through writing their second album while still awaiting the release of their debut.
And they are intentionally maintaining a mystique around themselves.
"We like to keep it quiet. I think we're going to do the Summer Sundae Fringe in August," Scott said.
"We've just recorded our album so we're going to start putting that around and see what happens."
The band take their unusual name from a collection of papers written by Leonardo Da Vinci, detailing his scientific observations from 1508 to 1509.
The work was bought by Microsoft chairman Bill Gates for $31m for it at auction in 1994.