Rutland Osprey Project offers reward for missing bird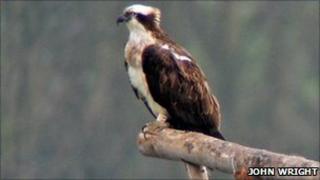 Conservationists in Rutland have offered a reward for information about a missing osprey.
The Rutland Osprey Project said the bird, Osprey 08, was last seen on 11 May and was the third to vanish from around Rutland Water since April 2010.
The team fears this means someone is deliberately killing the ospreys, leaving nests of eggs at risk as breeding pairs are separated.
Public donations have enabled to team to make the £1,000 reward offer.
Project officer Tim Mackrill said: "We are hoping that someone may have information that will allow us to determine exactly what has happened.
"We are also desperately hoping at least some of the chicks can be saved. We are keeping the eggs warm while we wait for the right time to put them into another osprey nest.
"The fact the female has abandoned the nest shows just how unnatural it is for a male osprey to vanish at this point in the breeding season.
"We have to face the fact it is almost certainly dead."
Surrogate nest
Since the disappearance of Osprey 08, Mr Mackrill has been "overwhelmed by the level of public interest" from across the country.
"People are appalled that another osprey has disappeared in this way - and have so far pledged £1,800 to help with the investigation," he said.
But staff said there was also good news in the first successful hatching of an osprey chick at another nest.
They added the birth was all the more important because osprey experts are hoping it could be a surrogate nest for the eggs they are incubated artificially.
Anyone with information has been urged to contact Leicestershire Police or the osprey team at Rutland Water.