Rutland osprey experts fear eggs will not hatch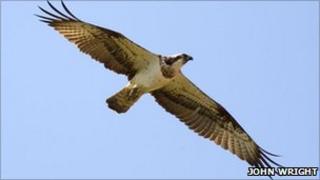 Rutland osprey experts are fearing three eggs, which have been abandoned by the mother, will not hatch.
Staff at Rutland Water took the osprey eggs to incubate them artificially, by a broody hen, after Osprey 5N left them uncovered for a long time last Friday.
The female gave up incubating her eggs alone after the male, Osprey 08, mysteriously disappeared on 11 May.
The male usually undertakes about 25% of incubation, allowing the female to have a break for short periods.
Tim Mackrill, from the Rutland Osprey Project, said: "Osprey 5N was having to do far more than usual.
'Clearly uneasy'
"More significantly, females are dependent on their mate for food during the breeding season, and so 5N went without fish for at least three days," he added.
Since then, staff at the reserve had been feeding Osprey 5N with fish.
"We had hoped that providing fish for 5N would have encouraged her to continue incubating until the chicks hatched, but she is clearly uneasy that she is alone at the nest", Mr Mackrill said.
The wildlife experts had to request a "special licence" from Natural England before they could remove the eggs of the protected species.
Mr Mackrill believed if they had left the eggs in the nest then the chicks would not have survived because "they require almost constant incubation".
He hopes he will be able to put the chicks into a surrogate nest.
"It is important that any chicks that do hatch are in a brood of similarly aged youngsters," he said.