Loughborough roots of 1948 Olympic torch relay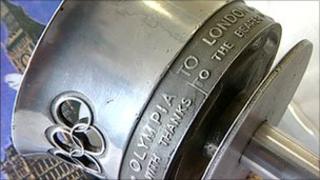 An Olympic torch used during London's last Games has roots in the Leicestershire town where it is kept.
The organiser of the 1948 torch relay, Cdr Bill Collins, bequeathed the historic item to Loughborough College, where he taught athletics.
Letters in an accompanying archive detail how local manufacturers Brush declined a request by Cdr Collins to make the 1,688 torches for the relay.
The 1948 flame travelled 1,964 miles (3160km), from Greece to Wembley.
The flame was escorted across the Channel by the Royal Navy, to be greeted by 50,000 people who watched Chief Petty Officer Herbert Barnes carry it onto British soil.
After carrying the flame and passing it on, runners were allowed to keep their torch as a memento.
Cdr Collins' archive also includes original drawings depicting early designs of how the torch might have looked.
Two months ago, his torch was paraded through the town by group of school children and 1948 bronze medallist Tommy Godwin, to mark 500 days before the start of London 2012.
Loughborough University is set to host the Great British and Japanese Olympic teams, as they train for London 2012.