Third missing Rutland osprey feared shot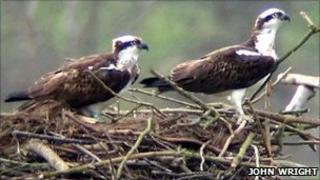 Staff from the Rutland Osprey Project fear a male bird has been shot, the third in about a year.
In April 2010, two ospreys disappeared in suspicious circumstances from nests close to Rutland Water.
Project officer Tim Mackrill said it was likely a third osprey - known as 08 - had been shot because it went missing in the same area.
The police said it was "an extremely serious offence" to intentionally harm or kill the protected species.
Mr Mackrill said Osprey 08 had not been seen since 11 May.
"His mate is currently incubating a clutch of three eggs and so it is extremely rare for him to be away from the nest for more than a few hours," he said.
"The most likely explanation is that he has been shot, especially given that 08 hunts in the same area as the birds that disappeared last spring."
'Very significant' bird
Another possibility is that the osprey may have become tangled in netting.
"When fishing is difficult at Rutland Water the birds often turn their attention to other more sheltered lakes and ponds for fishing," Mr Mackrill said.
Rutland Water manager Tim Appleton said Osprey 08 was a "very significant" bird for the project.
"His return in May 1999 was the first indication that our ground-breaking project was going to work and so his loss has been devastating for everyone involved."
Laurie Appleton, of Leicestershire and Rutland Police, said: "We are taking this matter extremely seriously and will be carrying out further investigations."