Sir Peter Soulsby to axe Leicester council chief exec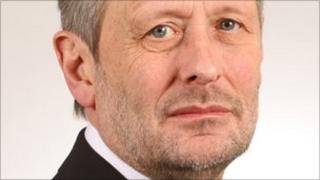 Leicester's first elected mayor Sir Peter Soulsby has announced plans to scrap the position of chief executive at the city council.
Sir Peter, who stepped down as Labour MP for Leicester South to enter the mayoral race, said he had taken the decision partly to save money.
There was also a "responsibilities overlap" with his new role, he said.
Current chief executive Sheila Lock has been in the job for about three years and earns £174,165 per annum.
Sir Peter said: "The chief executive has a very wide range of responsibilities, some at least of which I believe overlap with the newly elected mayor, particularly providing strategic direction.
"It's for that reason that I've come to the conclusion, partly to save money but also because of this overlap of roles, that the chief executive's role can be removed from the organisation and that's the proposal that I'm making."
Management review
He said Ms Lock would be included in a formal process of consultation, and her feedback would be "fully considered".
The mayor added: "There's no legal requirement for us to have a chief executive but we do have to have a head of paid service.
"What I'm intending to do is to ask the deputy chief executive to take on that role until the outcome of this procedure is completed, and until I.... look at the rest of the senior management."
Ms Lock is currently on sick leave with deputy chief executive Andy Keeling acting in her place on a salary of £140,000.
Plans for an elected mayor in the city were approved by the Labour-controlled council in December.
Sir Peter has the power to initiate policies across council services, and has a team which includes a deputy mayor and six assistant mayors.
The wages of the mayor and his administration have yet to be officially set, but will be decided by an independent panel, he said.