Bishop supports campaign to save Glenfield heart unit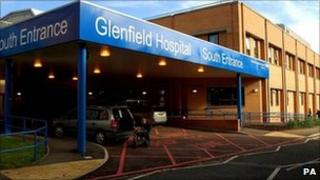 The Bishop of Leicester has pledged his support to the campaign to prevent the closure of the city's children's heart unit.
The centre at Glenfield Hospital is one of several across England that the government has said is under threat.
The Right Reverend Tim Stevens said staff at the unit were "exceptionally professional".
A public consultation is under way into children's heart services in England.
At least four of the eleven specialist centres across the country face the threat of closure.
The NHS has said that the surgical centres would be turned into children's cardiology centres instead.
The surviving centres would have at least four consultant congenital heart surgeons treating a minimum of 500 children each year.
During a tour of the Glenfield unit, Bishop Stevens said: "I think everybody who's been treated in this hospital knows what exceptionally professional staff they have here.
"They have the vary latest technology and the great thing is they have a quality of care and commitment."
The four-month consultation will run until July.