London 2012: Leicester in Olympic torch relay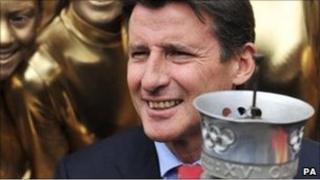 The Olympic torch will visit Leicester next year as it tours the UK ahead of the opening ceremony in London.
On 2 July, the relay will move through the city to Abbey Park where a celebratory stage show will be held.
Rory Palmer, deputy city mayor, said: "It is a once in a lifetime occurrence for our city and I hope that people will share in this excitement."
The torch will arrive at the Olympic Stadium in Stratford on 27 July for the start of the 2012 Games.
Organisers said the aim was for the torch to visit different communities and cultures.
"The fanfare and excitement surrounding the Olympic flame's arrival will be a great boost for our communities," Mr Palmer said.
"The event in Abbey Park will highlight both community and Olympic spirit across the area and we are delighted to be taking part in all the celebrations."
'Working closely'
Leicester is one of 66 places across the UK chosen to hold an evening event during the 70-day torch relay across the country.
It is hoped that about 95% of people will be within an hour's journey of seeing the torch, which will travel for about 12 hours each day.
A nomination process will be used to pick the 8,000 torch bearers.
The Olympic flame, one of the enduring symbols of the Games, is set to arrive in the UK from Greece on 18 May 2012.
The exact design of the torch will be unveiled on 9 June.
A full list of all the places it will pass through will be published next year.