Ancient Hallaton silver bowl inspires London exhibition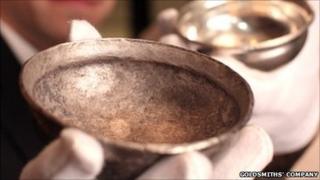 A 2,000-year-old Iron Age silver bowl found in Leicestershire is the focus of a new exhibition in London.
The vessel, believed to be the only silver bowl from this period, is an early example of Iron Age silver work.
Harborough Museum has loaned the unique bowl, along with Celtic and Roman coins and other artefact finds from its Hallaton Treasure gallery.
The Corieltavi Silver Bowl: 2000 Years Old exhibition will be held at Goldsmiths' Hall until 16 July.
'National significance'
The pieces have been showcased at the Leicestershire museum since September 2009, but have never been on display in London.
David Sprason from Leicestershire County Council said: "The Hallaton Treasure and the silver bowl are finds of national significance.
"It is tempting to see Hallaton's humble bowl as the first step towards a great tradition of working precious metals in Britain.
"It is apt for the bowl to be displayed with other magnificent examples of this craft," Mr Sprason said.
After viewing the bowl at Harborough Museum, Rosemary Ransome Wallis, Curator of Goldsmiths' Hall, looked into how the bowl may have been made with the help of renowned silversmith Alex Brogden.
He discovered that at least three hammers were used to make it.
"It was humbling to think that the fundamental skills of the silversmith have changed so little over the centuries," said Mr Brogden.
The Hallaton bowl, which is 110mm across and 48mm high, and the other artefacts will return to their permanent home at Harborough Museum after the London exhibition.