Leicestershire strawberry farmer's weather fears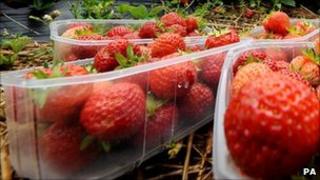 A strawberry farmer in Leicestershire has said he fears the early dry weather may have come too early for his pick-your-own farm.
Alan Ludlum, of Cattows Farm, near Heather, said he feared there would be no strawberries left for July after many plants had already fruited early.
"We prefer a late season because people associate strawberry picking with the school holidays", said Mr Ludlum.
He said he also harvested asparagus 12 days earlier than usual.
He said that was "unheard of".
The farmer said he had "never known the ground to be so dry in April or very early May".
"When the children are off school we get inundated with people wanting to pick strawberries," he said.
"This year it maybe as early as the last week in May or certainly very early in June."
The Met Office said April was the warmest on record, with many areas of the UK seeing temperatures of 3C to 5C higher than usual. It was the 11th driest April on record.
Farmers, gardeners and water companies said they were hoping to see some significant rain.
However, weather forecasters have said they do not expect any substantial rain for least the first week or so of May.