McCanns mark Madeleine disappearance anniversary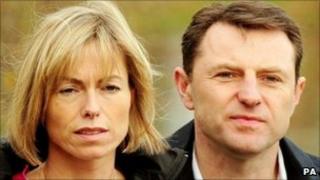 The parents of Madeleine McCann are marking the fourth anniversary of her disappearance with family and friends.
Kate and Gerry McCann are preparing to publish their account of how she disappeared while on a family holiday in Portugal.
Madeleine, of Rothley, Leicestershire, was nearly four when she vanished in Praia da Luz, Algarve, in May 2007.
A service is being held in Liverpool, at the Roman Catholic church attended by her maternal grandparents.
Family spokesman Clarence Mitchell said: "It will be a private day marked with family and friends. The anniversary is normally a very low-key occasion at home for them."
He added that there were no plans for them to return to Portugal for the four-year landmark.
The McCanns hope the publication of a book, entitled Madeleine, will prompt people holding vital information about what happened to Madeleine to come forward.
It was originally due to be published last week but publishers Transworld postponed the release date until 12 May to avoid clashing with the royal wedding.
The official Portuguese inquiry into Madeleine's disappearance formally ceased in July 2008 but private detectives employed by the McCanns have continued the search for the missing child.