Leicester university sets £9,000 fee level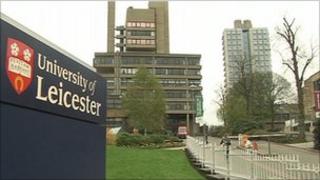 The University of Leicester has announced it intends to charge the maximum £9,000 a year in tuition fees.
It said the move was needed to maintain the quality of teaching and research in the face of funding cuts.
Directors also announced an £8.4m annual package of scholarships to help thousands of students from poorer backgrounds.
But a student leader said the prospect of a £27,000 debt would be a serious concern for most applicants.
Alex Nutt, from Leicester Students' Union, said: "Even though you do not have to pay up front, I still think the common perception is that by the time you finish your three-year degree you are going to have to pay back £27,000 and that is an astronomical figure."
Richard Taylor, from the University of Leicester, said: "Leicester is the most socially inclusive of Britain's top 15 universities. It is important we remain socially inclusive, hence the £8m scholarship programme.
"But it is also important that we remain among the top universities in the country."
Nearby Loughborough University set its fees at the same level last week, while Derby University said it plans to charge fees between £6,995 and £7,995.