Leicestershire police officers criticised in IPCC probe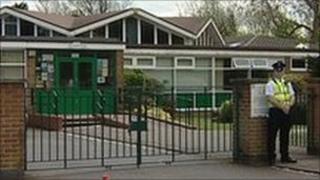 Two Leicestershire police officers face misconduct proceedings following an investigation into the way they dealt with a victim of harassment.
A woman, 32, was stabbed five times outside Greenfield Primary School, Countesthorpe, last year by a man who she had repeatedly reported to police.
The Independent Police Complaints Commission (IPCC) examined the force's dealings with the man.
Police apologised for failing to recognise the threats to the victim.
The IPCC said six other officers have received or will receive management action by the force following the investigation.
'Collective failure'
The IPCC report found police "adopted a haphazard approach" towards the victim who was subjected to "increasing levels of domestic abuse and repeated harassment".
Deputy Chief Constable David Evans, from Leicestershire Police, said: "We are always dealing with complicated situations and challenging issues in the police service, and of course we are dependent on the actions of individuals.
"But I am confident that we have the processes and practices in place to make sure we join up whenever that is possible."
The man was given an indeterminate sentence for public protection in November last year for stabbing the 32-year-old outside the school in April 2010.
The woman was discharged after hospital treatment.
IPCC Commissioner, Amerdeep Somal, said: "Prior to the attack, there was a lack of positive action by officers and their supervisors when dealing with the victim.
"[His] behaviour followed a distinct pattern which had come to the attention of Leicestershire Police previously - similar offences relating to a different woman with whom he had been in a relationship, for which he received a 10-week prison term in 2007."
She said there was "a collective failure" by police officers to recognise the increasing risk the man represented to the woman and her family.
The investigation found some officers failed to carry out proper risk assessments and complete the required paperwork in accordance with force policy and procedures.
The handling of 10 incidents of harassment of the woman dating back to July 2008 were examined.