Binman's Andrew Lansley rap is YouTube hit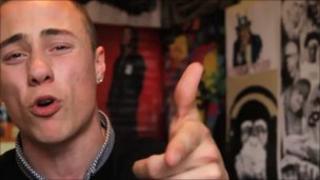 A Loughborough binman has scored an online hit after posting a rap video on YouTube criticising Health Secretary Andrew Lansley.
Sean Donnelly, also known as MC Nxt Gen, wrote the track in response to government plans to give GPs more control over England's health budget.
Mr Lansley said he was "impressed" but denied planning to privatise the NHS.
The clip, which has so far had almost 140,000 hits, includes the lyrics: "The NHS is not for sale".
Despite the rapper's use of strong language and scattered personal attacks on the health secretary, the politician admitted he admired the 22-year-old's writing skills.
"We will never privatise the NHS, but I'm impressed that he's managed to get lyrics about GP commissioning into a rap," he said.
Mr Donnelly said he was "amazed" and "honoured" by the positive feedback he had received.
"I've got close people, family and friends, who want to work in the NHS in the future, they're worried about [the plans]," he said.
"I've never been political at all, I don't know much about politics, but I just went on the internet and researched it.
"I didn't want it to be about me, I just thought I'd do something to help."
He added: "I think rap should be the new way of politics because it's the young people's future that it's going to effect."
Mr Lansley is supporting proposals to give consortia of GPs more responsibility for NHS spending "to set hospitals free from central control".
He said the idea is key to making the service more responsive to patients.
But the government is also keen to see other providers - private health firms and social enterprises - getting involved.
This has opened the plans up to accusations that it could lead to the privatisation of the health service.