Leicestershire churches celebrate King James Bible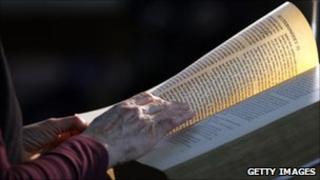 Methodists in North-West Leicestershire are to celebrate the King James version of the Bible with a series of special events.
This year marks the 400th anniversary of the publication of the translation.
Churches in Coalville, Ashby-de-la-Zouch and Whitwick will be displaying artwork, and holding themed services and evening gatherings.
Organiser Deacon Barbara Crockett said she hoped the events, which begin on Saturday, would bring the Bible alive.
Each of the three Methodist churches involved will exhibit artwork depicting themes from the scriptures alongside a relevant verse from the King James Bible.
Living text
Deacon Crockett said she had been very impressed by a recent BBC programme in which Melvyn Bragg highlighted the importance of the text.
"He was saying that the King James Bible had made the country what it is.
"The justice system, for instance, is based on an understanding of the Bible. It is alive but people take it for granted."
The version, first published in 1611, was created at the request of King James I, who was unhappy with existing translations.