Lubbesthorpe housing plan consultation begins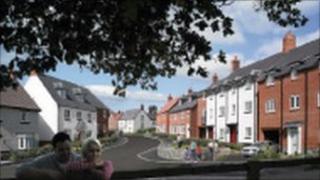 Thousands of people are being asked their views on plans to build a new settlement in rural Leicestershire.
Developers want to build 4,250 houses, along with schools, shops and offices, on land near Lubbesthorpe.
About 6,600 letters have been sent by Blaby District Council to nearby residents inviting them to comment as part of a six week consultation.
Opponents have said the plan would destroy valuable farming land and increase pollution and traffic.
The site is off Beggars Lane and borders Leicester Forest East, Enderby and Braunstone Town.
Hallam Land Management, Barrat, David Wilson Homes and Davidson Developments submitted a formal planning application in February 2011.
The council has said it expects to make a decision on the scheme by the end of 2011.