Young Rutland composer to make Royal Opera House debut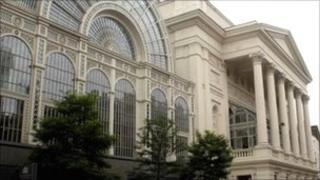 A Rutland schoolboy is preparing to make his debut at the Royal Opera House (ROH) after composing his own fanfare.
Charlie Abbott, 14, wrote the 30-second piece which was entered into a national competition by Oakham School.
His fanfare was among 10 winning entries which will be played in the ROH's front-of-house areas from May.
The music student will meet a professional composer to develop his fanfare, before a recording session with a full orchestra.
He will later be invited to a performance at the ROH to hear a premier broadcast of his work, and will be credited in the programme.
The final fanfares will replace the traditional bell which signals the audience to take its place in the auditorium.
Music lessons
Charlie wrote the piece in six 40-minute sessions after being prompted by his music teacher.
"I've sort of done the odd little bit [of composing] at home, but this is the first real full piece I think I've created," he said.
After the success of his composition, the teenager said he was interested in working on future pieces.
"I think it's certainly something which I'd like to explore more and have a look at pieces," Charlie added.
The final 10 winners were selected from 276 entries by a panel of judges, which included Antonio Pappano, music director of The Royal Opera and Barry Wordsworth, music director of The Royal Ballet.
It is the second year running that an Oakham School pupil has been chosen as a winner of the national competition.