Petition to save Hinckley bus routes signed by hundreds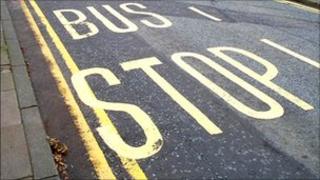 More than 1,500 people have signed a petition to save five bus services in Leicestershire from closure.
Centrebus says it will have to cut routes 71, 75, 76, 81, and 82 in Hinckley if Leicestershire County Council proposals to reduce its subsidies go ahead on 1 April.
The Conservative-run council said it was working with the bus firm "towards a successful resolution".
Campaigners are to make representations to the council in the next two weeks.
The bus company receives funding for carrying elderly and disabled passengers, who travel free with bus passes on services to Hinckley, Burbage, Barwell and Earl Shilton.
David Shelley, from Centrebus, said: "It is the last resort to cut services and close the Hinckley depot, but without the concessions funding from the council we can no longer cover operating costs.
"Over 60% of passengers in the Hinckley area travel without paying a fare, which makes a significant impact on the revenue."
'Communities stranded'
Conservative Councillor Lesley Pendleton, county council cabinet member for environment and transport, said: "Centrebus' concerns are appreciated but unfortunately the county council has been placed in a difficult position as government guidance on concessionary travel wasn't received until the end of November 2010.
"We are actively negotiating with Centrebus and are working towards a successful resolution."
Campaigners said they would compromise with a "less frequent service using fewer vehicles" to save the routes.
Terry Kirby, from Leicestershire's Campaign for Better Transport, said it would be "very serious indeed" if the routes in Hinckley were cut.
"If it does come to pass it will leave lots of communities completely stranded. Some remote parts of Burbage are about a mile and a half from the nearest alternative scheduled bus service," said Mr Kirby.
"There will be funding implications long term so we need to sort out matters permanently because we want a guaranteed continued service, which meet the needs of the people in the area," he added.
Fellow campaigner Janet Rowe, from Hinckley Pensioners Action, said it would have a "huge impact" on many estates in the area.
"It will not just affect older people, it'll affect those who go to work as well," said Ms Rowe.
Liberal Democrat county and borough councillor David Bill said: "We've got a good bus network in the Hinckley area and it's essential we continue to retain this service for the benefit of everybody."