Leicester takeaway restaurants concerned over chef ban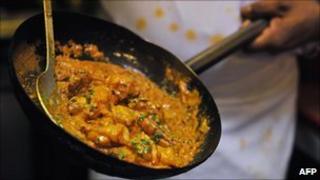 A Leicester business association believes the curry food trade will suffer if foreign chefs are prevented from working in UK takeaways.
The government ban will be applied to migrants from outside the European Economic Area (EEA) from April 2011.
The ruling comes after the Migration Advisory Committee (MAC) was asked to review the country's skill shortages.
Dharmesh Lakhani, chair of Belgrave Business Association, is worried the ban will result in unhappy customers.
The Belgrave Road area of Leicester is famed for its Asian restaurants and takeaways.
The restaurant owner said although there was no lack of quality UK-trained chefs, a practical knowledge of world cuisine was crucial to maintaining food quality and variety.
Diverse cuisine
The Home Office said only graduate-level non-EEA workers would be allowed to apply to come to the UK, with the number of skilled migrants capped at 21,700.
Chefs will need to have graduate-level qualifications, with a minimum of five-years experience in an equivalent role, and need to earn at least £28,260 per year after their accommodation and food.
Mr Lakhani's said his head chef had worked extensively in different regions across India before settling in Leicester.
"All of these experiences gained over the years have benefited the business in this country - and I would not say he's unskilled; he's fantastically skilled," said Mr Lakhani.
He is confident that takeaway restaurant owners will lobby their MPs to continue allow chefs into the UK to work.
The EEA comprises countries in the European Union and European Free Trade Association.