Leicester marathon runner regains sight for second time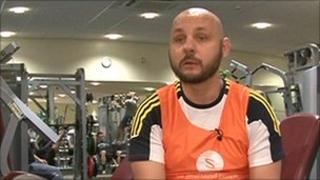 A Leicester man has said his taste for adventure has not changed, despite twice losing and regaining his sight.
Jimi Dally, 40, first lost sight in his left eye at the age of 16 due to a parasitic disease, which was worsened by a rugby injury five years later.
In January 1997 he underwent a successful operation which was followed by "13 years of wonderful eyesight".
However, an accident at home in 2010 left him partially sighted again for six months, before further surgery.
Mr Dally has now been preparing to run two marathons and take part in a 200-mile bike ride, with hopes set on completing a skydive with approval from doctors.
"It's just brilliant because last July I was in the process of selling my bike because I didn't think I'd be cycling again," he said.
"So to be able to see again today is just truly amazing and I'm very happy."
Inspiring surgery
Mr Dally has had problems with his eyes since he was four years old, but in 1987 he lost his centre of vision in his left eye after contracting toxoplasmosis, a parasitic disease of the brain.
Doctors advised the active teenager to give up playing rugby, "but like any 16 or 17-year-old I didn't follow their advice", he said.
During a game in 1992 the opposition prop thumbed Mr Dally in the eye, causing the lens to become dislocated.
It was a further five years until he underwent the surgery which he was warned could either restore or completely destroy his sight.
The operation was successful and Mr Dally enjoyed full sight for 13 years, before an accident in June 2010 left him facing the surgeon's knife once again.
After the removal of part of the eye, he now wears a protein contact lens for about seven hours a day.
Future adventures
Mr Dally said he had never let his sight problems hold him back and was always keen to take on a new challenge.
"When I first lost my sight I was still playing squash [by] listening to where the ball was going.
"The people I was playing, I didn't tell them I was blind and I had great satisfaction inwardly when I came off the court and I'd beat them."
In upcoming months Mr Dally plans to run the London and Stockholm Marathons, and take part in a return bike ride between Leicester and Skegness - raising money for the charity Sense.
However, he said his last experience has made him consider his future health, and pay closer attention to his doctors when planning his next adventures.
"I don't want to undo the good work of the surgeons, so if they say no, then for the first time I'll follow their advice."