Midlands energy firm to use anti-theft technology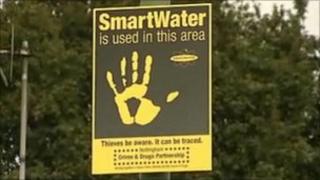 A Midlands energy firm is using a theft-prevention technology to deter metal thieves.
Central Networks will use SmartWater to mark copper in its network so thieves can be tracked by police.
Equipment will be coated with the invisible fluid which has its own DNA-style code.
The firm is using the system because 850 metal thefts in the region in 2010 resulted in losses of more than £1m, a Central Networks spokesman said.
Ultraviolet light
Spokesman Phil Wilson said: "Copper theft has become all too a common a problem and this move shows just how serious we are about protecting our network.
"Apart from the risk of injury or even death, thieves could find themselves and their tools coated in a substance which is traceable if they try and steal from our network."
If the SmartWater rubs off on anyone, it will glow under ultraviolet light, revealing the code and linking the criminal to the stolen goods.
Central Networks covers an area from the Peak District in Derbyshire in the north and from the Welsh border to the Lincolnshire coast.