Concern over robberies on Leicester's 'Golden Mile'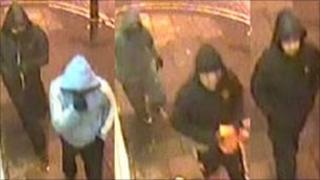 Some jewellers are calling for a greater police presence on Leicester's "Golden Mile" after two recent robberies.
A gang armed with an axe, knife and sword robbed Alankar Jewellers on Belgrave Road on New Year's Day.
Raiders also escaped with £6,000 in gold from a nearby shop on 29 January.
Leicestershire Police said it had already increased patrols and called on traders to help by improving their own security.
Atul Pattni, from Kampala Jewellers, said: "The most we can do is tighten up security and we have tightened it.
Three arrested
"We've got extra cameras outside, we've got buzzer systems. But still a normal person can walk in and his mates will rush in afterwards so there's not much we can do."
Insp Steve Riley said: "In terms of the visibility, I'm a little surprised that people are saying they don't see the police down there.
"It has been a priority for us for a long time and we've had two neighbourhood officers basically walking up and down the Golden Mile for the last month or so."
He added: "The other part of the solution is in terms of the jewellers improving their own security, such as spending money on CCTV cameras, both in internal and external, and introducing measures like airlock systems which prevent people from committing these type of crimes."
Three people have been arrested and released on bail over the 29 January raid.
Belgrave Road is known as the Golden Mile because of the high concentration of shops in the area selling gold jewellery.