East Midlands Airport warns of Chinese lantern danger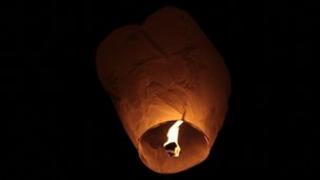 East Midlands Airport has warned against launching Chinese lanterns beneath its flight paths, claiming they could get sucked into plane engines.
The tissue paper lanterns can float up to a mile into the air once lit and are often constructed with metal wire.
The warning comes during a fortnight of Chinese New Year celebrations when large numbers of lanterns are lit.
An airport spokesman asked people setting off big displays of lanterns under the flight path to contact them.
Austria and Germany have banned the lanterns but there are no restrictions in force in Britain, although the Civil Aviation Authority (CAA) has issued guidelines on their use.
Although no planes have been brought down, the CAA says the lanterns could potentially be ingested into plane engines and can fall on to airport runways.
Russell Craig from East Midlands Airport said: "We don't want to be the fun police but you have to manage risk.
"We are not calling for them to be banned but if you live on the flight path just think twice before you let off the Chinese lanterns.
"If you are having a big display just talk to us and let us know and we will do our best to help you enjoy them."