Crackdown on drivers flouting mobile phone law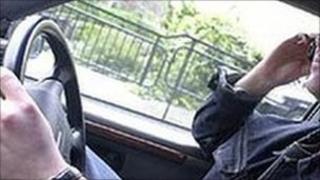 Motorists who use hand-held mobile phones while driving in Leicestershire are being asked to attend a road safety awareness clinic.
The campaign is aimed at reducing the number of road accidents in the county.
Police said the mobile phone distraction awareness sessions are an alternative to prosecution.
Offenders are shown a road safety video and given advice about the dangers associated with driving while using a mobile phone.
Insp Viv Brenchley, head of the Leicestershire Constabulary Road Policing Unit, said: "Driving requires your undivided attention. Talking on the phone or texting people whilst driving can contribute to momentary lapses in concentration.
"If you absolutely must drive whilst on the phone, be sure to use an approved hands-free kit. Otherwise, pull over safely and return the call from the side of the road.
"If you know someone is driving be wise enough not to call them."