Protest over Leicester City Council savings plan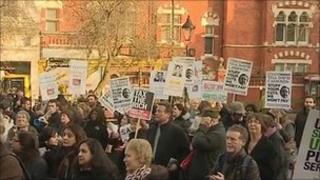 About 300 people have gathered in Leicester to protest over more than 500 possible jobs losses.
On Tuesday, the city council unveiled proposals for its next budget, which includes savings of £28m.
This would see a 25% budget cut for Children's Services, a review of care homes for the elderly and changes to staff terms and conditions.
But campaigners in Town Hall Square said the most vulnerable would be worst affected.
The event was organised by Leicestershire Against the Cuts, which is made up of unions and community groups.
'Basic services'
Spokesman Tony Church said: "We do not believe cuts are necessary.
"There is £126bn of tax in this country that is uncollected - that would go a long way to paying off the deficit.
"This is the easy option for the government and unfortunately this Labour council is making these cuts.
"They are going to be opposed, we are not going to accept them."
Sir Peter Soulsby, the Labour MP for Leicester South, also attended the demonstration.
He said: "I, along with a lot of people here, am very worried indeed about the basic services that are provided by central government and local councils and the jobs of those who provide those services."
City officials said the authority had to find £82m in savings by 2015 due to a cut in grants from central government.
They insisted everything had been done to protect frontline services, including using £5m in reserves.
Last week a freeze in council tax for the coming year was approved and further freezes are planned.
The council's scrutiny committees will consider the proposed budget, before the full council meeting takes a final decision on 23 February.