Three men quizzed over robbery at Lutterworth jewellers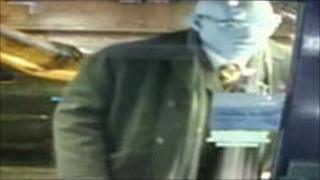 Three men have been arrested in connection with a robbery at a Leicestershire jewellers in December.
A man wearing a latex mask threatened staff at Robinson's Jewellers in Lutterworth with a hammer and what is believed to have been a gun.
He took jewellery from a display stand, but left empty handed after his bag was grabbed from him by a security guard.
Three men, aged 19, 21 and 31, have been arrested and released on bail pending further enquiries.
The security guard was assaulted and suffered minor head injuries as he struggled with the masked man during the robbery at 1455 GMT on 16 December.
The robber escaped in a black Kia Sportage car driven by another man who had parked further down the road from the jewellers, on Church Street.
The Kia was later abandoned in a car park behind Rugby Road.
Police have studied CCTV footage of the area and believe the car was refuelled at Jet Petrol Station in Lower Leicester Road about 15 minutes earlier.
Anyone who saw the vehicle or its occupants at the petrol station or in the Church Street area is urged to contact the Leicestershire force.