Leicester market renovation scheme starts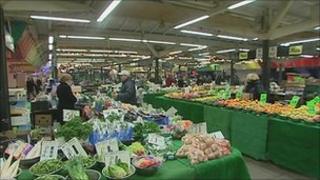 A £600,000 scheme to renovate Leicester's covered market has started, despite continuing opposition from some stall holders.
The work will see part of the roof removed to form a piazza area, with food and seating.
Planners said the market needs to modernise to survive but some traders claim it is a waste of money.
An original £9m makeover was shelved due to financial pressures on the city council.
John McCormack, who sells bric-a-brac in the market, felt the project would badly damage the area.
"I think it is an absolute disaster," he said. "Who wants to sit in the cold and rain and the wet and the snow in a cafe in a piazza? I don't know of anybody, certainly no-one who uses the market.
"I think, along with 90% of the traders I have spoken to, it will kill the market stone dead."
Councillor Paul Westley said that the idea had worked elsewhere.
"Bristol has done it and they have the same weather as here. Our market manager visited them and the traders there think it is the best thing since sliced bread and they operate 52 weeks a year."
He added: "Markets have to develop. A lot of authorities have got rid of their markets entirely but despite revenues dropping, we have no intention of doing that, but it has to modernise."
It is hoped the work will be completed by the end of March.