Barwell stab case man denies wanting to kill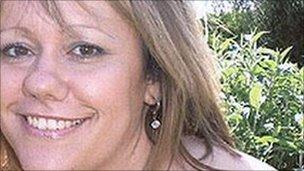 A Leicestershire man who killed his ex-partner has told a court he did not realise he was stabbing her.
Karen Brookes, 37, was attacked in her car in Barwell, Leicestershire, on 12 November 2009 and died soon afterwards.
Kevin Sainsbury, 51, of Charnwood Road, Barwell, said he confronted Ms Brookes after their relationship finished but thought he was punching her.
Mr Sainsbury, who denies murder, told Nottingham Crown Court had no desire to kill Ms Brookes.
The court heard their 15-year relationship ended in April 2009, but the defendant found it difficult to accept this.
After allegedly making threats he was arrested and then released on bail with the condition he did not approach Ms Brookes.
Breaking down several times, Mr Sainsbury described how he opened the car door.
"We had a bit of a struggle, I was trying to move her into the passenger seat so I could get in.
"I hit her with what I thought was the handle of the knife.
"Karen stopped screaming, she sounded like she had been winded. Her hands dropped down, she was staring at me.
"Then she slumped over the seat."
Mr Sainsbury said it was only when he got to his car and saw blood on the knife he realised what had happened.
Related Internet Links
The BBC is not responsible for the content of external sites.