Heroin user mother from Leicester jailed for baby death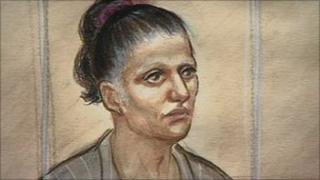 A heroin user from Leicester has been jailed for accidentally smothering her baby to death after taking drugs.
Lisa Riozzi, 45, from Braunstone Frith, fell asleep while trying to breastfeed her 17-day-old daughter Chloe in October 2007.
Drugs tests revealed she had taken methadone, heroin and cocaine all at about the same time.
Riozzi pleaded guilty to two offences of child cruelty and was jailed for three years at Leicester Crown Court.
The court heard how, when Chloe was born, Riozzi only told nurses of her drug habit when her daughter became fractious.
'Drug stupor'
At times she would leave the baby alone and with a soiled nappy to go to buy drugs off the streets of Leicester.
She would fall asleep on her return to the ward, leaving staff who were unable to rouse her to care for the child, the court was told.
Mary Prior, prosecuting, said Riozzi left hospital against the wishes of staff to be cared for in the community.
Two weeks later an ambulance was called to the family home after Riozzi fell asleep while trying to breastfeed and woke up to find Chloe beneath her, pale and floppy.
In addressing the defendant, Judge Michael Pert QC said: "Chloe only lived for 17 days. You lied to the very people who could have helped you about your addiction.
"You fell asleep in a drug stupor and suffocated her to death."