Last airworthy Vulcan 'could have flown for last time'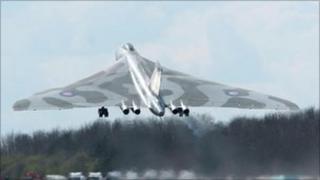 The last airworthy Cold War Vulcan bomber could have made its final public flight on Sunday unless its owners can raise £400,000 by the end of October.
The XH558, owned by Leicestershire-based Vulcan to the Sky Trust, took to the skies at Coventry Airport's Fly-in fundraiser.
Chief executive Dr Robert Pleming said the recession was partly to blame for a substantial drop in donations.
The bomber requires costly maintenance to ensure it passes safety tests.
It was introduced as part of the RAF's nuclear deterrent against the Soviet Union during the Cold War.
But the aircraft only saw action during the 1982 Falklands War, when its crew bombed Port Stanley Airport, preventing its use by Argentine jets.
'Magnificent aircraft'
Dr Pleming said he hoped to keep it airborne for two further display seasons, including the year of the Queen's Diamond Jubilee in 2012, which is also the 60th anniversary of the first flight of the Vulcan and the 30th anniversary of its role in the Falklands conflict.
"The airframe has limited time before it will no longer be possible to renew its Permit to Fly," he said.
"After that, we hope to develop a museum and educational centre around the plane, funded by conference, leisure and other commercial activities.
"But if we don't make it through October the tremendous opportunities offered by this magnificent aircraft will be lost forever."
The Vulcan was withdrawn from service in 1984, and later restored at Bruntingthorpe aerodrome in Leicestershire.
It is hoped the plane will perform a fly-past at the opening of the 2012 Olympic Games in London.