Vote to ban EDL march in Leicester 'unanimous'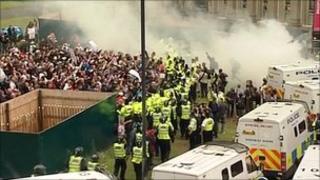 Councillors in Leicester have voted unanimously to ban a planned English Defence League (EDL) rally in the city.
The right-wing group said about 3,000 members would march on 9 October.
But Leicestershire Police said the plans posed a "major threat to public order", with intelligence suggesting a mosque would be attacked.
The EDL said it had no plans to target a mosque and the public "should not be worried". The Home Office will now decide whether to enforce a ban.
Concerns about the impact of the march, and a counter-demonstration by Unite Against Fascism (UAF), were outlined in a letter by Simon Cole, chief constable of Leicestershire Police.
Mr Cole said he believed the rally would attract about 5,000 people from the two organisations.
In August, Home Secretary Theresa May imposed a ban on a planned EDL march in Bradford.
However, the group was allowed to hold a static rally, during which a number of skirmishes broke out between members of the group and rival protesters from UAF.
On its website, EDL said: "We have organised a series of peaceful protests across the country. Unfortunately, some of these have been disrupted... we wish to avoid clashes and putting officers, our members and the public at risk."
The Home Secretary is expected to decide whether to ban Leicester's rally next week.