Leicester author's book draft stolen along with laptop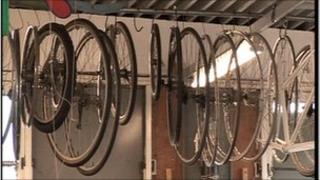 An East Midlands author is devastated after a laptop containing the first draft of a book was stolen from a shop.
The draft was taken along with bikes worth £7,000 during a break-in at Cycle Magic in Leicester.
Cycle Magic is a not-for-profit organisation that raises money for community activities which encourage people to cycle.
Roger Lovel's book on the history of cycling in Leicester was stolen along with his laptop on 19 September.
Mr Lovel has appealed to the thieves to return the draft of his book.
The thieves broke a window in the storage area at the shop on the night of 19 September.
Mr Lovel said: "I feel empty. Completely gutted. The creative process involved in writing a book - once you've done the research ... and done the writing, it takes so long."
The thieves also sprayed powder from a fire extinguisher on the remaining bikes in the shop, causing a lot of extra damage, he said.