Leicester hospital's £9m neonatal unit opens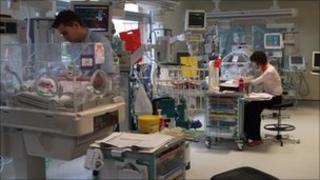 A new £9m unit providing care for dozens of premature babies in Leicestershire has opened.
The project took a year to complete and has space for 24 intensive and special care cots at the Leicester Royal Infirmary.
About 10,500 babies are born every year in Leicester, Leicestershire and Rutland and about 1,600 of these will need special neonatal care.
The unit also has three parents' bedrooms and a play area.
Martin Hindle, chairman of Leicester's Hospitals. said: "We recognised a while ago there was an increased demand on our neonatal service and we have created a unit which we know will be able to help even more of the region's tiniest patients."
Facilities in the new unit include quiet rooms for parents, reception and waiting room area, new equipment and the potential to care for a further 12 babies in the future.