Sale of Poussin painting to fund work on Belvoir Castle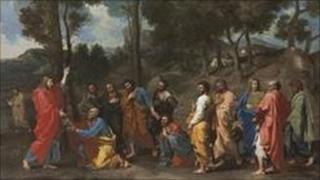 Trustees of Belvoir Castle are hoping to safeguard its future by selling a painting by the French artist Poussin.
The 17th Century work entitled 'Ordination' is to be sold at auction at Christie's in London with a guide price of £15m to £20m.
The painting was bought by the Duke of Rutland more than 200 years ago.
A spokesman for the Trustees of the Belvoir Estate said the decision to sell the work had been "extremely difficult".
The painting was one of a set of seven works entitled the Sacraments bought by the 4th Duke of Rutland in 1785.
One work 'Penance' was lost in a fire at the castle and another, 'Baptism', went to the National Gallery in Washington in 1946.
In a statement the trustees of the Belvoir Estate said: "The proceeds released from the sale of the painting will enable us to realise our core aims of securing the restoration and long-term preservation of Belvoir Castle and Estate.
"The paintings have been on public display at Belvoir for many years and we have been very happy to lend them to the National Gallery for the last seven years for the public's greater enjoyment.
"Following the successful sale of 'Ordination', it is our hope that the four remaining paintings will go back on public display at the National Gallery in London."
The castle has been open to the general public since the 1950s.
Further details on its restoration are expected to be released in the New Year.
The auction is due to take place on 7 December.