UK charity wants more tests to check for diabetes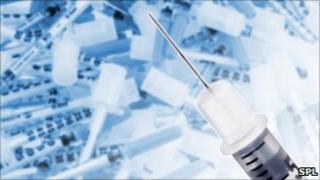 More than 67,000 people in the East Midlands are probably unaware they have diabetes, a charity has warned.
Diabetes UK said the figure, which refers to Type 2 diabetes or adult-onset diabetes, was alarming.
It has called on primary care trusts in the region to attach greater priority to screening at-risk groups.
The charity wants diabetes tests to be available in pharmacies. The estimates were provided by the Yorkshire and Humber Public Health Observatory.
Extreme tiredness
Type 2 diabetes can cause blindness, amputation, kidney failure, stroke and heart disease, and can go undetected for up to 10 years.
Around half of people already show signs of complications by the time they are diagnosed, Diabetes UK said.
Peter Shorrick, Diabetes UK regional manager for the Midlands, said: "This new estimate of 67,200 undiagnosed Type 2 cases in the East Midlands is truly alarming.
"PCTs need to better prioritise screening of at risk groups and improve uptake of programmes such as NHS health checks."
He said there needed to better awareness of the risk factors and symptoms of Type 2 diabetes to encourage people at risk to go to their GP for a simple diabetes test.
The main risk factors for developing Type 2 diabetes are being overweight, being aged over 40 and having a close relative with diabetes.
Symptoms of diabetes include going to the toilet more often and especially at night, increased thirst, extreme tiredness, unexplained weight loss, slow healing of cuts and wounds and blurred vision.
The statistics for diabetes are complied using data from the Health Surveys for England which includes information on age, sex, ethnic group and deprivation.
The projections of future diabetes takes into account projected increases in the number of adults who are overweight and obese.