Remains of blast temple in Leicester examined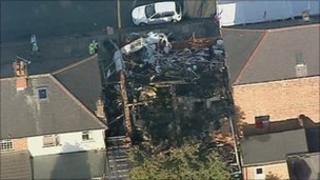 Fire crews and structural engineers have been examining the remains of the Hare Krishna temple in Leicester partially destroyed in a gas explosion.
The remains of the outer building in Thoresby Street are to be demolished.
Residents have had to leave the adjoining property while engineers check the building.
About 30 worshippers were in the temple moments before fire ripped through it at 1430 BST on Friday.
A religious celebration was being held at the property when one of the occupants went to disconnect a gas cylinder being used for cooking.
Leicestershire Fire Service said he noticed the valve was leaking and got everyone out with moments to spare.
Some people suffered minor injuries and shock in the blast, which shook nearby homes, but nobody was seriously hurt.
A third of the terraced building was destroyed and was left too unstable for emergency services to enter.