Fifth arrest after anthrax found in Loughborough addict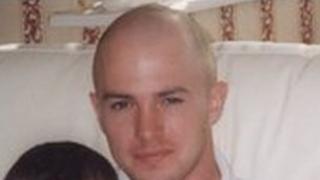 A fifth man has been arrested in connection with the death of a heroin user from Leicestershire who was infected with anthrax.
Police and the Health Protection Agency are investigating the death of Tom Forbes, 29, of Loughborough, who died on 26 August.
A 45-year-old man from North Yorkshire is now in custody.
Detectives are still waiting for the results of a post-mortem examination on Mr Forbes.
Four men from Loughborough, aged 24, 31, 35 and 37, have already been questioned and released on police bail.
Mr Forbes' case is the fourth time anthrax has been detected in a drug user in England since February.
Anthrax is a very rare but serious bacterial infection caused by the organism Bacillus anthracis.
Health officials said until tests were concluded it had to be assumed that all heroin in Leicestershire "carries the risk of anthrax contamination".
Heroin users have been urged to stop taking the drug and to seek treatment immediately.