Tall Persons Club tackles height problems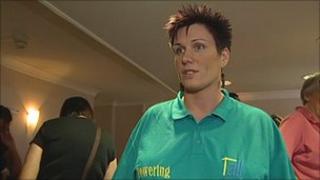 A Loughborough woman who helped organise a meeting for tall people from around Europe said they still face a lot of challenges.
Louise Ross, who is 6ft 3in (1.9m), is a member of the Tall Persons Club of Great Britain and Ireland.
She said products are not designed with tall people in mind and that makes shopping difficult.
The 19th annual meeting of the club was held in Leicester and attended by 79 people.
Ms Ross said members, who must be six foot tall and above, share information, socialise and talk about issues facing tall people.
She said there are often no shops on the high street that cater for tall people - and that is "quite frustrating".
"All the mobile phones are made for tiny little hands and cars are getting smaller," she said.
She said the tallest person at the meeting was 7ft 2in (2.18m) and travelled from Denmark.
The average height of a UK male is 5ft 9ins (1.75m) and for a women it is 5ft 3ins (1.6m).