Hundreds turn out in Leicestershire for saint-to-be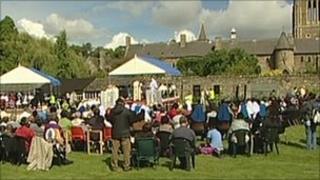 Hundreds of people gathered at a Leicestershire abbey to honour a priest who could become Britain's first black saint.
Nigerian-born Father Cyprian Michael Iwene Tansi was beatified by Pope John Paul II on 22 March 1998.
This year marks the 60th anniversary of his entrance to Mount Saint Bernard Abbey near Coalville, where he spent the last 14 years of his life.
Blessed Cyprian is the last UK-based priest to have been beatified.
The Mass was celebrated on Saturday with hundreds of people visiting from all over the world in attendance.
Miracles
Iwene Tansi was born in 1903 at Igboazunu in Nigeria. As a young man he worked as a teacher, before becoming a Catholic priest.
Tansi was ordained for the Onitsha diocese at the age of 34 and arrived at Mount Saint Bernard Abbey near Coalville in 1950 ready to follow a monastic life.
He died in the Leicester Royal Infirmary on 20 January 1964, at the age of 61 and was buried in the monastery grounds. In 1986 his remains were exhumed and returned to Nigeria.
In order for Blessed Cyprian to become a saint, two miracles must be attributed to him. He was beatified in 1998 after his first miracle was proven.
"In Nigeria, a woman had a tumour in her stomach, it was cancer," said Abbot of Mount Saint Bernard, Father Joseph Delargy.
"She prayed to Blessed Cyprian for healing and the tumour miraculously disappeared."
To become a full saint, one more miracle must be attributed to Blessed Cyprian.
"Blessed Cyprian was very special to us as he was here for 14 years," said Father Joseph.
"We see him as a brother and he has a wider appeal outside the monastery."